Bespoke Websites & eCommerce Solutions
Future-proof your business, become an industry leader and supercharge your sales with digital.
We can help your business reach a larger online audience, simply by creating a unique and forward-thinking website with SEO enhanced content implementation. The focus here is not just to increase your online presence but also to provide you with a bespoke and bold new platform that helps to drive a significant increase in sales for your business. Our experienced team of designers, developers and marketers have launched hundreds of sites, working in partnership with clients across Retail, Automotive, Hospitality and Manufacturing sectors.

E-Commerce web design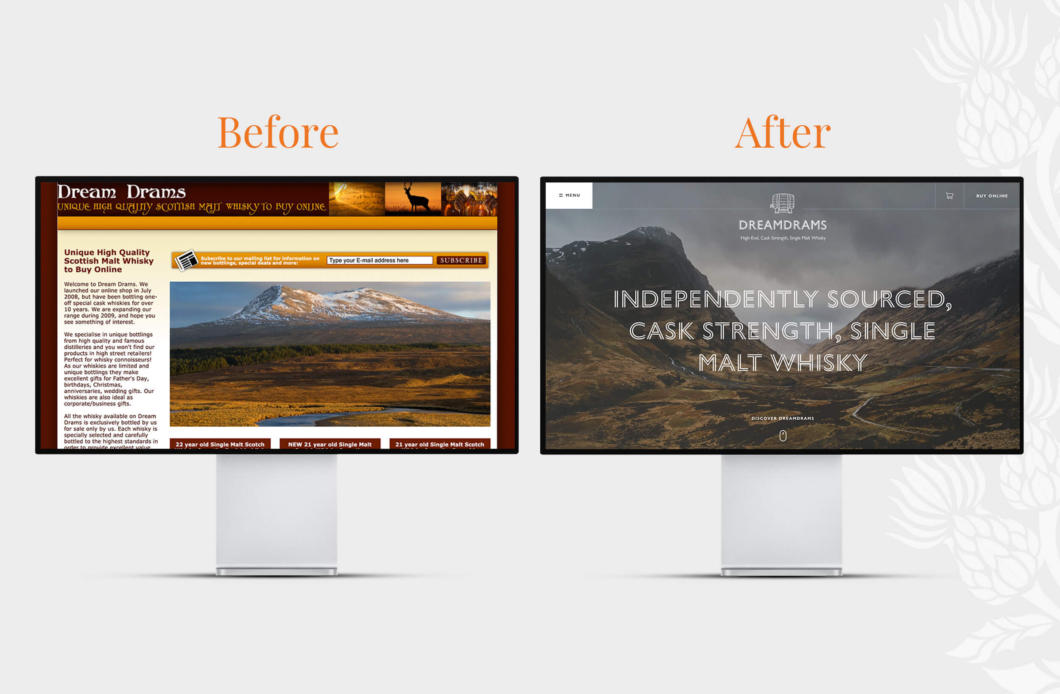 Client: Dream Drams
Creating a website experience as smooth and inviting as their spirits.

Award-winning team with 10+ years of experience

We've worked with a number of clients – from Lincat to Mercedes Benz eStar – to build and enhance their e-commerce platforms. Not only do we visually overhaul their websites, but we also integrate refined backend systems, which enable better stock control and order processing.

By combining visibly appealing design with improved and simplified user experiences our clients have seen not only greater engagement, but pivotally an increase in turnover.
Whether you're taking your first steps into e-commerce, or you're planning to significantly overhaul your current website, we're on hand to design and implement a range of payment gateways across a range of platforms that'll perfectly suit the needs of your business.
---
Verse: Strategic Growth Partners

To make sure we get the very best results, we take the time to understand your business, your customers and your goals. Everything starts with your offering and how best to display and communicate your value statement to your target audience. We'll also review your analytics to find out what works and what doesn't.
95% of our work comes from client recommendation – brand managers and marketing leaders turn to us for:
Sites that are easy to update and seamlessly connected to all client touchpoints and databases
Mobile-friendly sites and apps that have fast page load speeds
Our experts in Search Engine Optimisation & Marketing (SEO/M) will help you maximise your RoI and drive traffic to your site
We offer unrivalled ongoing support – our dedicated customer success team works with you to make sure you get the results we know you can achieve
---
Case study: Lincat
A seamless digital storefront to revolutionise the catering industry.
Brand Architecture, Creative Direction, Web Design, Content Creation and Style Guide by Verse.
"Lincat unveils 'game-changing website for dealer ordering online".
– Catering Insight
"Lincat unleashes website aimed at revolutionising catering equipment purchases".
– Food Service Equipment Journal
---
Not quite ready for a full-blown online store?
Brochure Websites
We've created a number of trade and retail focused brochure sites that are not only well designed from a technical aspect but are perfect when it comes to showcasing a range of products and services with ease. We're focused on embracing your key selling points, making sure that the user can easily access (or order) what they require.
Our design focus is purely on simplifying the end-user experience and ensuring that the finished product is not only visually appealing but simple and effective for the user. Our overall aim from this approach is to increase conversion rates from your services & products pages, while also reducing excessive customer service calls.

The team were thorough and knowledgeable, involving all our key stakeholders in the discovery process, and their designs were exactly what we had been hoping for. Throughout the project no detail (or piece of feedback) went ignored and the end result was a beautiful online presence that works well for our guests and internal team alike. The team have been responsive when anything urgent has come up and are always a pleasure to interact with. We look forward to our continued work with them.
---
Contact Verse
Let's make something great together
Verse is an award-winning, trusted digital growth partner for ambitious brands looking to grow.