Social Media Marketing Channels
&

Trends

2023

How to cut through the noise and maximise your efforts as a marketeer

Today, more than 4 billion people use social media worldwide. This is projected to rise to almost 6 billion in 2027.


While this makes it easier and more cost-effective for businesses to reach their audience at scale, it also poses a new challenge for marketers to cut through the noise.

So which platforms should you be focusing your efforts on in 2023? What new features should you be prepared for? And how often should you be posting?

Here are our top tips from Verse's marketing strategist extraordinaire Mehrnisa Khan: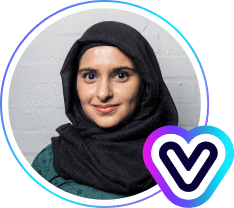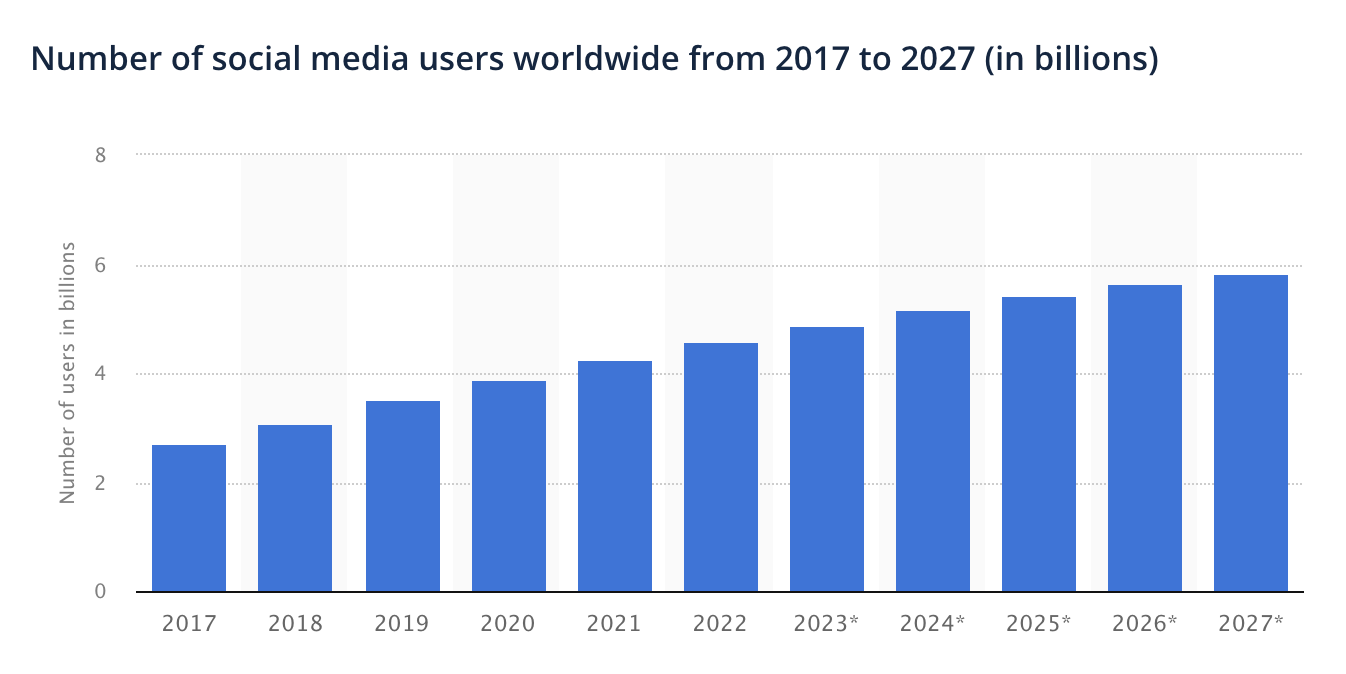 Most popular social media platforms –
2022

data

Last year, the most used social media network worldwide was Facebook followed by YouTube which have over 2 billion monthly active users each. That's a third of the world's population.

YouTube is also the second most popular search engine after Google. Instagram and TikTok have half the amount of monthly active users but are fast-growing platforms.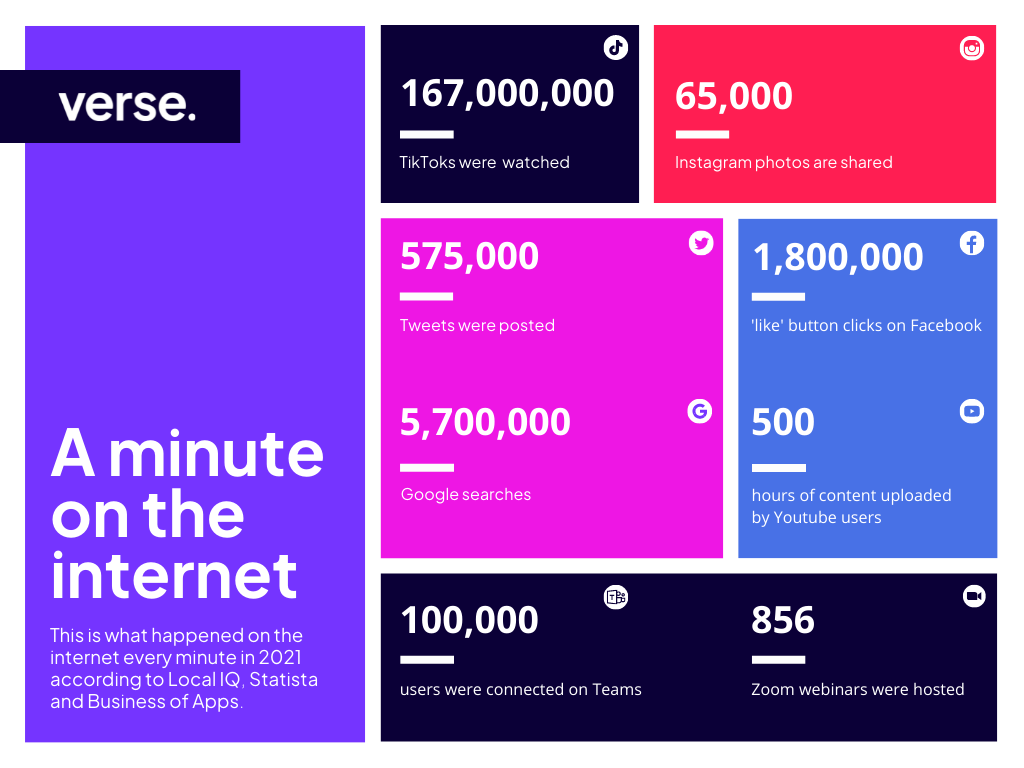 Should I be using TikTok for marketing?
TikTok users entertain others and express themselves using short-format videos.
It is the top-growing social media platform worldwide, with a brand value growth rate of 215 per cent. Messaging app Snapchat ranked second, with a brand value growth rate of 184 per cent.

Tiktok has been the most downloaded app globally since 2020, with 672 million downloads in 2022.
It has a high average engagement rate of 18% for micro-influencer and 5% for mega-influencers. In comparison, Instagram's average engagement rate is only 3.9% and 1.2% respectively, while Youtube's is 1.6% and 0.4%.
9 out of 10 TikTok users use the app multiple times per day.

TikTok usage in the
UK
grew between
2020
and
2022
, with a peak of
9
.
2
million monthly active users in October
2021
.
TikTok is most effective at reaching a younger audience of 13 to 29 year-olds and currently, half of its users are under 34. However, adult users grew 5.5 times in under 18 months over the pandemic.

Between 2020 and 2022, monthly TikTok usage in the UK has grown, with a peak of 9.2 million monthly active users in October 2021 across iOS and Android devices combined.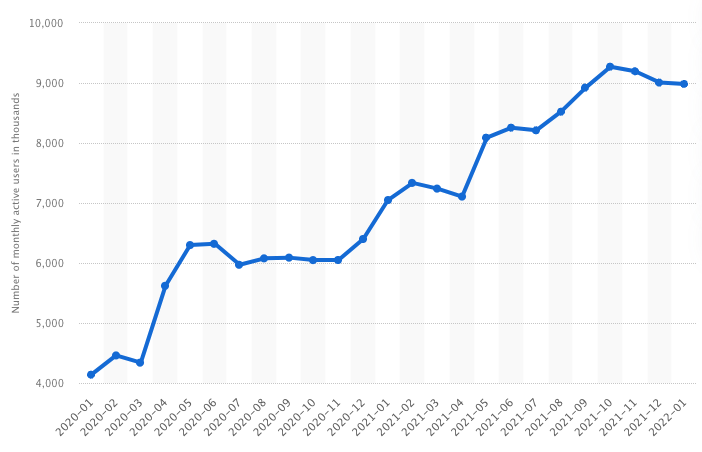 TikTok – Key Features
Popular features: FYP Algorithm, Video editor, Duets, Reactions, Stitching, Hashtags, Music library, Filters and Effects, Live Video Streaming, Geolocation feature, videos in the Entertainment and Dance categories

Rarely used features: Shoppable content, TikTok Creative Centre
New TikTok features and facts for

2023

include:
accessibility and translation tools (auto-generated captions

&

translation for captions, video descriptions and text stickers) to help bring entertaining global content to more users

the initial batch of supported languages includes English, Portuguese, German, Indonesian, Italian, Korean, Mandarin, Spanish and Turkish
How to use Instagram for marketing?

Instagram users inspire others with creative photos and reels that follow the popular TikTok format. It's great for connecting users with brands, celebrities, friends and family.
Millennials ranked Instagram as their favourite social media in 2022. The audience is 51% female and mostly aged between 18 to 34 years old. Over 70% of teenagers use Instagram which is why the ​"Higher Education" category has the best engagement rate.

In September 2022, Instagram had around 32 million users in the United Kingdom, with a market share of around 5 – 6%.
Shoppable content makes it ideal for businesses selling products or services to consumers as 60% of users discover new products on the platform.
Instagram Strategy
Over half the marketers surveyed by Takumi planned to use Instagram for influencer marketing in 2021. Micro-influencers, with 10k-50k followers, are becoming an increasingly popular alternative to celebrities as user-generated content achieves a 4.5% higher conversion rate

Instagram – Key Features
Still popular: Reels, Lives, Story polls/​stickers, Carousels

Unpopular: IGTV was scrapped & the app was only downloaded by 1% of users

Rarely used: Guides and Time Lapse

Latest updates: Subscriptions (being trialled), multiple feed views; ​"Home" which is the current view with Instagram's content recommendations, ​"Following" which shows content in chronological order from only followers and ​"Favourites" which lets users pick which creators to show.
Instagram is still the main social media account for
16

to

24

year olds, while Facebook reigns for the

65

+ audience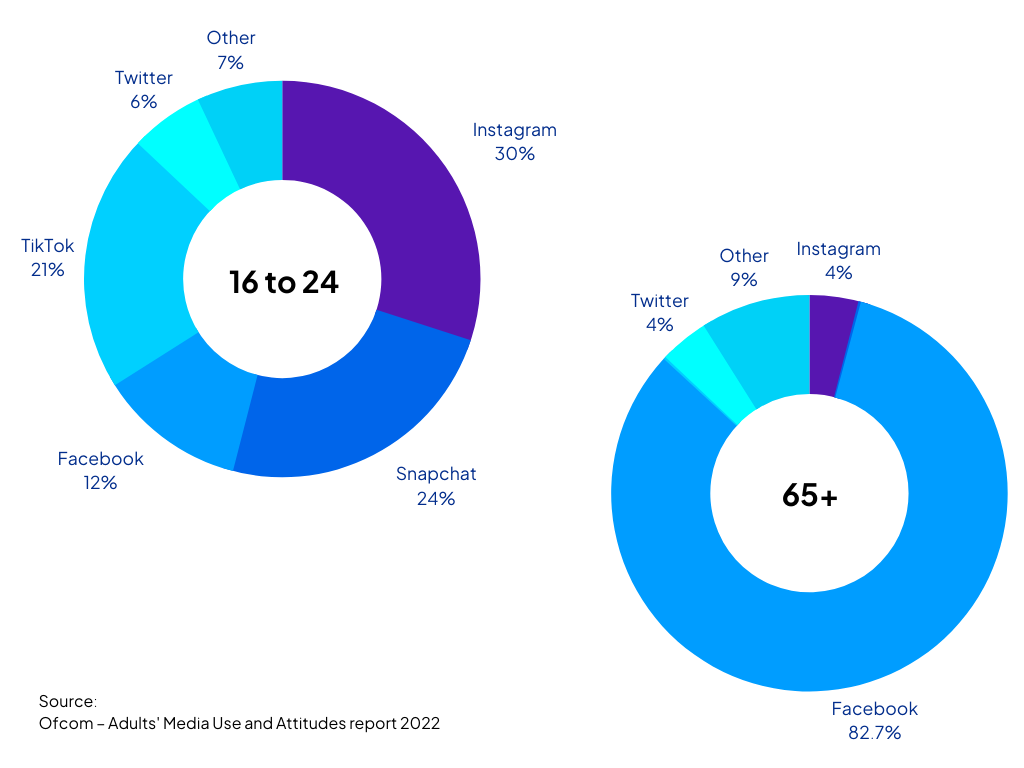 Is Facebook still the ​
"

king of social media"?

Facebook is still the top-used social media platform but it is growing slower than Instagram and TikTok. Facebook's algorithm prioritises creating connections with friends and family, co-workers or groups with shared interests.

56% of males use the platform and it is most popular with 25 to 35 year olds. A majority of college/​university graduates use Facebook.

In the UK, about 45 million people use Facebook regularly, or about 66% of the population. 44% use Facebook daily, on average for 23 minutes per day.

The UK's most popular Facebook pages with the most fans include Adele, Manchester United, David Beckham and UNILAD.


Facebook Strategy
Facebook is used by 96% of B2C and 91% of B2B marketers.
Facebook videos get 135% more organic reach than images.
Facebook Messenger has more than 1.3 billion users worldwide, which makes it the 2nd most used instant messenger behind WhatsApp. An astounding 20 billion messages are sent between consumers and businesses every single month on Messenger, making it one of the most popular business communication channels.

Facebook – Key Features
Still popular: Event Pages, live streams, news feed ads, status posts, post reactions, videos, reels, Facebook's Spark AR studio (2 million effects published by 600,000 creators from 190 countries), Facebook Shops, hashtags, private/interest-driven Facebook Groups

Rarely used: 360 photos, Facebook WiFi, FAQs, Gaming platform
Is Twitter still relevant in
2023

?

Twitter users share thoughts with a big audience in up to 280 characters. The key to the platform's success is providing real-time commentary on trending events and topics.

64% of the audience is male mostly aged between 25 and 34 years old. 80% of affluent millennials use Twitter.

As of May 2022, Twitter's monthly social network market share in the United Kingdom was 14%, down from 37% in 2020.
Twitter Strategy
Over 80% of B2B marketers use Twitter for content marketing.
Twitter – Key Features
Still popular: Explore page, Twitter Lists, Moments and Polls

Rarely used: GIFs have 55% more engagement but are only used in 2% of tweets
Twitter – Latest updates
Twitter Spaces is a place to host online audio discussions. To build a Twitter Space audio chat room you need to have 600+ followers. There will also be more focus on shopping modules to help users take advantage of the popularity of shoppable content. To start a Space on Twitter, you can go to the Compose button from the Home menu and long press it. Then tap the Spaces icon displayed on the far left.

Twitter Communities, a Twitter marketing feature, enables you to establish connections with people who talk about the same topics as you do.

Twitter Moments: specially designed for all those users who have more to say. Use Moments to build together with your followers a story made up of several Tweets and comments that support the same powerful message.
Top
5

social media platforms in

2023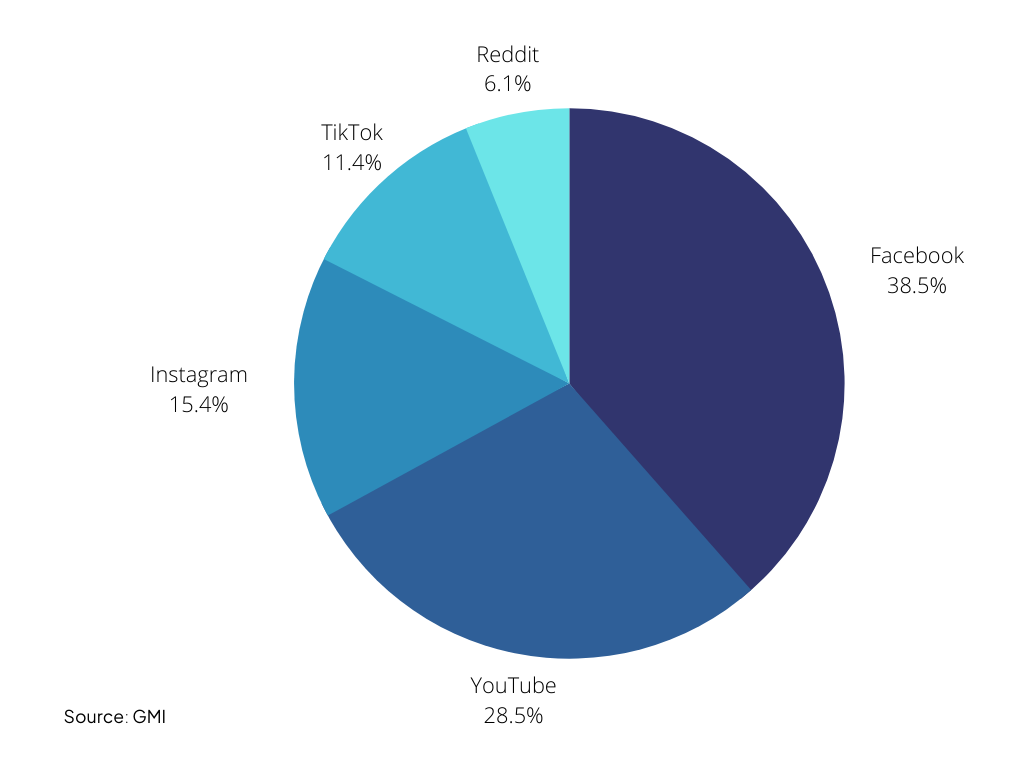 How popular is YouTube?
📹 Users find answers from videos on YouTube and share longer-format videos like tutorials.
🌍 When looking at it in terms of active users, YouTube ranks as the second most popular platform in the world.
🇬🇧 In 2021, YouTube's user base in the UK was 41 million, projected to reach 44.38 million by 2025. 66% of social media users in the UK use YouTube.
📱 The audience is 56% male mostly aged between 15 – 35 years old. 70% of watch time comes from mobile devices and the average time spent on YouTube is 18 minutes a day. Children in the UK spend on average an hour per day on YouTube.

🚀 Brand awareness of YouTube is at 97% in the UK. In 2022, YouTube held a market share of under 3% among online social networking platforms in the UK.
YouTube Strategy
It is used by 55% of marketers for content marketing although only 9% of small businesses make use of it.

YouTube – Key Features
Still popular: Subscriptions, Playlists, Live Streams, YouTube Studio

Unpopular: The dislike button was dumped as part of a cyber-bullying initiative

Rarely used: 360 videos, YouTube Shorts

Latest updates: Auto Chapter and Places Mentioned to provide better contextual information about videos.
How should I use LinkedIn for B

2

B Marketing?
LinkedIn users network with over 57 million companies and 690 million professionals to generate B2B leads. It is best for sharing long-format content like articles, finding professionals by job role and connecting with companies.
The audience is 57% male mostly aged between 25 and 34 years old. 80% of LinkedIn users drive business decisions.
LinkedIn Strategy
96% of B2B marketers use it for organic social media content and lead generation. The average cost per lead is 28% less than Google Ads and message ads have a 40% conversion rate.
LinkedIn – Key Features
Still popular: My network, InMail, Groups, Job board, Carousels, Post reactions

Unpopular: LinkedIn Stories were scrapped as they couldn't replicate the success of the feature on Snapchat, Instagram and Facebook.

Rarely used: Showcase pages, Events tab

Latest updates: Linkedin Live are bringing popular features from other platforms to B2B marketing. A new ​"Cover Story" feature lets premium users add a 3-second video to their profile.
The percentage of people who say they use social media mainly to find inspiration (things to buy or places to visit)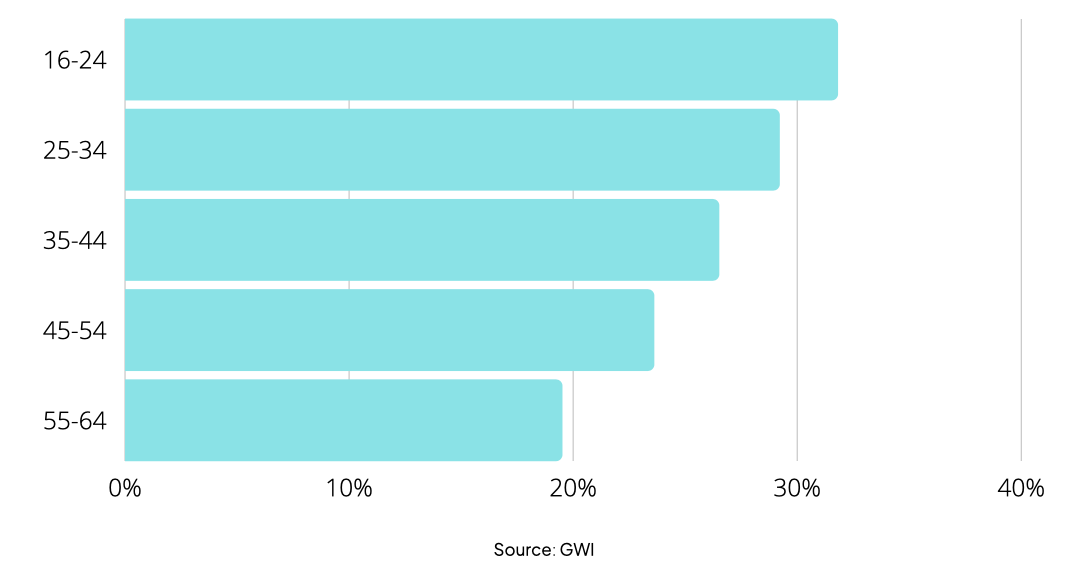 Should I be using Pinterest?
Pinterest users find visual ideas and products to plan events, holidays and DIY projects. 77% of the audience are female and aged between 30 and 64 years old. 86% of millennials use it to plan.
Pinterest is used by 25% of social media marketers which means lower competition than other platforms. This is good news for B2C brands because 77% of weekly users discover a new product or brand on the platform.
Pinterest Strategy
On average, Pinterest ads deliver £2 profit per £1 spent and drive 25% of retail website referral traffic.

Pinterest – Key Features
Still popular: Visual search, pinboards, Lens, Chrome extension

Rarely used: Pinterest Trends, Collaborate

Latest updates: Pinterest is focusing on adding more shopping tools to help users find and buy products or services. A new AR try-on feature will enhance visual shopping experiences and reach customers earlier in their decision-making process
How to create a strategy for social media?
Once you've chosen your platforms, the next step is to determine your objectives, goals for each platform, how you'll be measuring this and who your audience is. Research what topics they have shown an interest in based on hashtags or trends, challenges they are facing and what content currently performs well for your niche. Based on all this information, you can start to create a solid content calendar to attract your audience.

What is the best time to post on social media?
Mid-week posts tend to perform best on social media. Platforms aimed at inspiring and entertaining like Pinterest usually perform better in the late evening. Posting on weekdays between 10 am to 3 pm is good for building consistent engagement.
Facebook, Twitter, TikTok and Pinterest are platforms that favour quantity over quality and the best strategies involve posting multiple times a day and reactively to real-time events.
Instagram, YouTube and LinkedIn are platforms that reward better content over quantity. Long-form content with 1900+ words performs better on LinkedIn. The strategy should be to post 1 – 3 times a week while maintaining high standards for quality.



Need help with your social media strategy?

We offer flexible performance marketing services across planning, strategy, SEO, PPC, email marketing, content marketing, copywriting and branding.
Article originally published 4 April 2022. Text updated 24/01/2023 for the year 2023.