Wordpress vs. Craft
CMS

–

2021

Why We Offer Headless as a Standard
Let the battle of the CMSes commence!

One of the tools that can make or break your brand's online presence is the ability to easily create and publish content so it has maximum impact on your audience and
SEO

. That's why a first-class content management system (

CMS

) is pivotal when we work with top brands from the

UK

hospitality and automotive sectors.
WordPress or Craft

CMS

– which is better for your website?
Will my website be easy to update? How do I make sure my website is secure?
What is a headless

CMS

?
What is Verse's

CMS

of choice?
All your questions answered below 👇

A Story of David and Goliath
We've learned a lot about the pros and cons of content management systems (CMS) since Verse was founded in 2007. WordPress has been the reigning queen of platforms for years, with 28 million websites active at the time of writing, according to BuiltWith.
Since its launch in 2011, Craft CMS has been the dark horse on the market – a headless, more premium offering for businesses looking to prioritise page load speed, cyber security, scalability and connectivity via APIs. It currently has 42,000 live sites and the community around Craft is growing quickly.

WordPress: The Wild West – Infinite possibilities, but tread carefully
WordPress has an enormous third party market that offers pre-packaged plugins, themes and mock data that allows users to get their websites up and running fairly quickly. However, not all plugins are created equal – there can be problems with updates, upkeep and security. Code may also contain snippets that are not of the essence to your business, but which may slow down page load speeds.
Keep in mind that every third party integration, theme or plugin you install may become a vulnerable entry point for hackers to access your data or take over your site altogether. Ransomware attacks are a growing threat even for mid-size enterprises, with the profitability of cybercrime on the rise. According to Forbes:
"

In

2019

, average remediation costs for a company that had incurred a ransomware attack were over $

761

,

000

. In

2020

, the figure had more than doubled to $

1

.

85

million."
Experts have estimated that the cost of ransomware incidents worldwide is expected to spiral out of control, exceeding $265 billion by 2031.

Craft: Small but powerful community of developers with a sizable plugin market
WordPress' Disneyland of templates for anything and everything stands in stark contrast to Craft's mission statement of having no themes to work from, custom being the keyword.
Craft CMS has a much smaller but powerful ecosystem of developers and content managers than WordPress. The supportive nature of the Craft community is evident on the dedicated Craft Discord channel and Craft's own annual conference Dot Com in Amsterdam. The Discord channel with 5,000 active developers, allows us to share our experiences and pick the brains of the whole Craft community, find new and better ways of working and potentially even find new colleagues.
Craft leverages Twig, a modern template engine for PHP, and its own plugin market, available directly from the CMS, is quickly growing in size.
WordPress vs Craft
CMS

In Numbers: Active Sites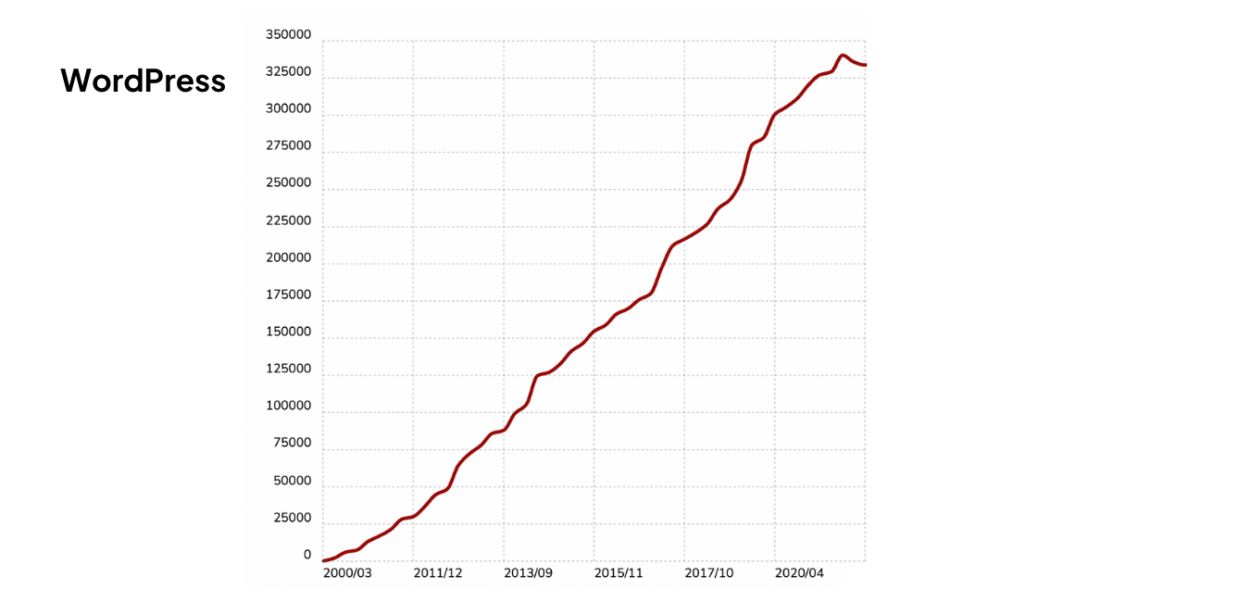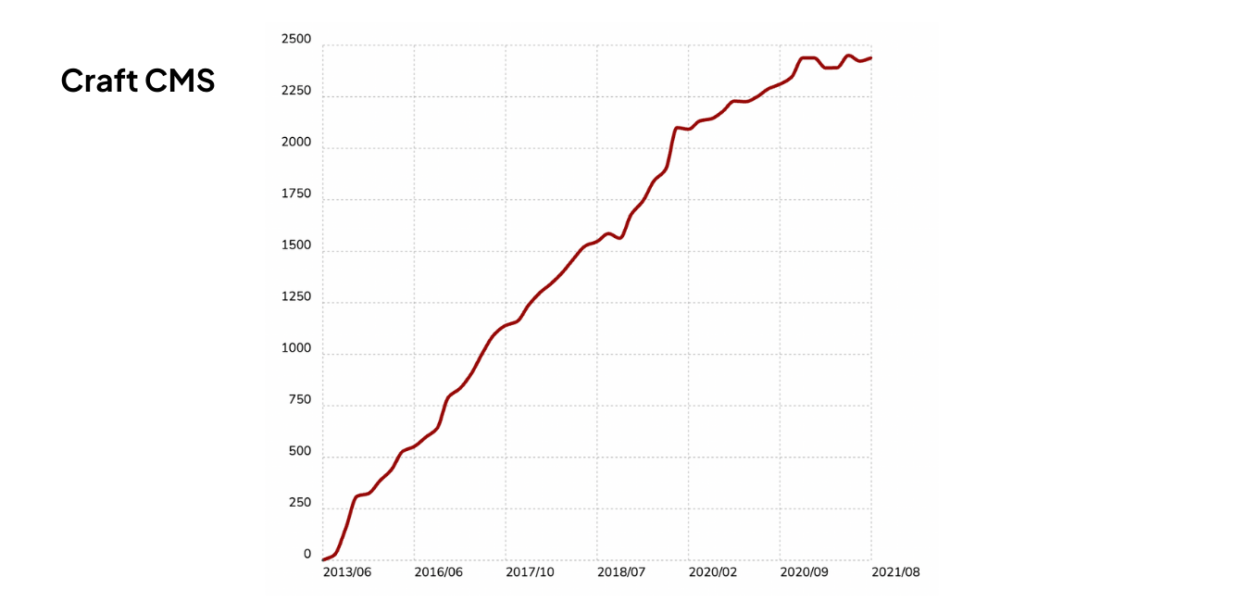 What is a headless
CMS

?

Traditional CMSes, as opposed to headless content management systems, have been around since the early days of the internet. Platforms like WordPress were designed to manage and present elements like text, photos and video on websites.


As digital platforms have evolved, businesses now require more flexible and scalable solutions. A brand may now have hundreds, even thousands of touchpoints: websites, mobile sites, apps, digital displays, chatbot interfaces, online payment systems and more. A traditional, or monolithic, CMS may no longer offer what businesses need to re-use and manage their content across a multitude of digital platforms.

A headless CMS is an advanced database that will make your data available to any number of touchpoints across platforms and programming languages, thus allowing you to create platforms rather than just simple websites.

A headless CMS tool like Craft CMS or Contentful has several benefits such as:

Saving web developers' and content managers' time
Advanced data validation features: data history and backup for individual objects are readily available
Stability: your site will be stable and bug-free
Cloud-based system: edit the site via your web browser
A problem that some experience with their headless CMSes is the inability to separate data for multiple environments such as test, acceptation, integration and production. Craft CMS, however, supports Live Preview so content creators will be able to create new pages with ease.
It is worth mentioning that if you use a licenced headless CMS such as Craft CMS, your data will essentially sit behind a paywall. Verse offers SLAs for making sure your website is well maintained, up-to-date and secure.
Working with a headless
CMS

– Is Craft

CMS

right for you?

Headless is most useful when you start adding external services and touchpoints for your brand's online presence.

Imagine you own a chain of pubs. You need to build several websites for each location and mobile apps for both Android and Apple ecosystems which will need to share the data with the website. The system may involve additional services, such as a table booking service, property management software or a bookkeeping application for your cash register.

A headless CMS will provide these features to you as it allows you to use APIs to interact with a mobile app, website or third party service.

Our choice: Craft
CMS
This conclusion may not come to you as a surprise! Verse is fully Partner Verified by Pixel & Tonic (the team behind Craft CMS) – meaning we are proud to be certified as experts at developing websites using Craft.




What our clients think
Our clients give us positive feedback on the ease of use for the Craft content management platform and non-technical users have complemented its intuitive user interface.
Clients like the fact that after we have launched their site they are able to independently build or modify the layout of their own pages using a variety of content blocks that we have designed for them. This makes scaling content easy and flexible.
They also enjoy the live preview, which gives them the reassurance that everything looks as it should for all users.
"We had a website that looked ​'ok' but was difficult to amend quickly and wasn't agile enough for our business. With ever-changing business and menus, it was a huge problem for the business.
The communication, patience and expertise have been fantastic. We have been able to find a solution that works for us and gives us the look and feel that represents the different aspects of the business. We now have a unique website, beautifully illustrated that fully represents our brand. We have autonomy over updates and content and feel confident it will support the growth of our business."
April Stobart | April's Kitchen | aprils​-kitchen​.co​.uk