Are you getting what you need from your digital agency?
The
10

tell-tale signs to look out for when evaluating your agency partnerships

A strong online presence is vital for any business. That's never been more true.

The online world is growing all the time; customers rely more and more on websites, social media and e-communications to interact with brands; and all digital trends have been accelerated by the pandemic.

Your digital agency should be helping you to understand the changing landscape and keeping your digital offerings current and cutting-edge.

But as an important partner to your business, there's a lot more they should be doing.

Here's our guide to some of the biggest trends in digital at the moment, and the ways your digital agency should be working with you to make sure you're taking full advantage.

First things first: Why partner with a digital agency?
In today's internet-literate landscape, it's not enough to simply have a website. The majority of people use the internet every day and can tell the difference between a good digital presence and a poor or indifferent one, and it's easier for potential customers to judge companies based on their digital offering. If your website is lacking in some way, users will probably know.
Having a presence online is about more than just a decent website: it incorporates social media, mobile-first thinking, connected devices, email marketing, eCommerce and (web) apps.
How integral your digital solutions are to your business's strategy and operations can be measured as part of your digital maturity. If you hold digital close to your business's heart, you're likely to be performing better than businesses that don't: one study found that digitally mature businesses have on average 3% more success. What would 3% more profit look like to you?
Embrace smart, modern solutions – not just in the initial investment, but in an ongoing commitment to your digital strategy – and you give yourself the best chance of competing and thriving in today's world.
Truly professional, quality businesses use digital agencies to help build a future-proof digital strategy. The relationship with your digital agency should function as a partnership, with you being able to trust the team to take your business forward, ask them any questions and learn from them.


Modern websites, or how to go ​
'

headless'

So what makes a good website in the 2020s?

As well as being user-friendly and attractive, we expect them to be flexible and future-proof, able to grow with the business they represent. We work with customers who have multiple websites, plus apps: we want managing all that content to be as simple as possible.

Luckily, modern technology allows us to develop websites more flexibly than we ever did before.

Most digital agencies will talk about ​'headless' websites now – including us – so here's a brief explanation of what that means.

Basically, all websites have a content management system (CMS), which allows content to be uploaded and published to the website. Traditionally a CMS only needs to feed into one place – the one website they were built for. In this context, let's call that website the ​'head'.

Now the technology has changed.

If the ​'head' is the website or other interface where the content from the CMS goes, a ​'headless' CMS is one where you can author and upload content and then choose different ​'heads' — different places for it to go.

You might be familiar with the term API. It stands for application programming interface, and in very basic terms, it's a piece of software that connects other pieces of software and data. Some websites use an API to connect an eCommerce platform, for example.

With a headless CMS, you can use APIs to push the same content across different interfaces, like multiple websites and apps.

The benefits are manifold: if you've got a portfolio of websites or apps, perhaps for different products or different locations, you can create and update your content in one place, then push it out to your different ​'heads'. That way the content is consistent – and online, consistency is an important marker of quality.

The infrastructure is fast, secure, future-proof and can easily integrate with anything.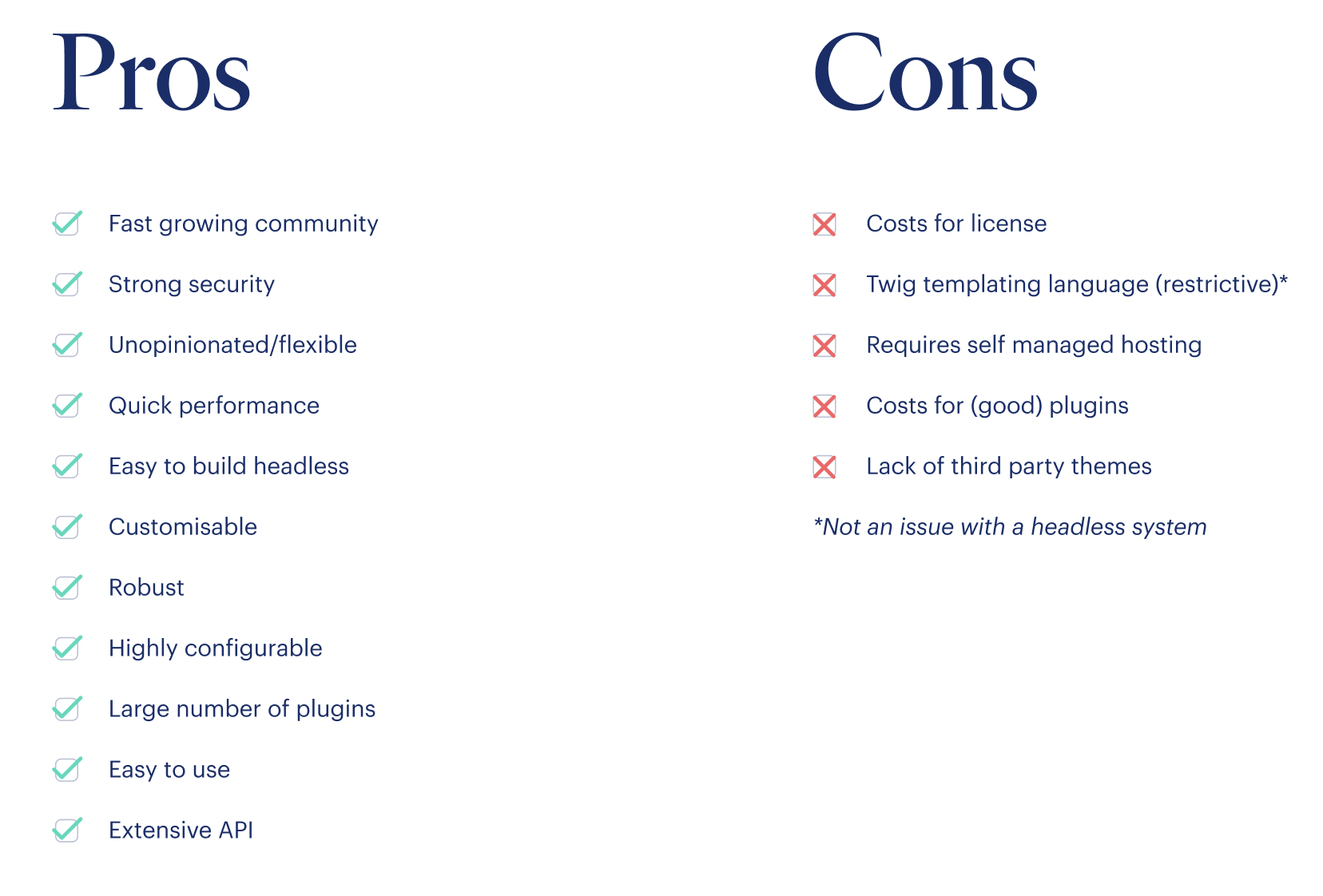 What sort of business benefits?
Large organisations with many different websites benefit from headless CMS: think restaurant chains, with varying branding and different menus in each city.
Much smaller businesses find them useful, too: as the ​'head' (the front end, including formatting) and the ​'body' (the content on the CMS) are separated, they're both easier to change and adapt. A headless CMS is future-proof, so if your business is growing, your digital offering can grow with you.
We've worked with many startups that prefer to have a headless CMS and a flexible, modern digital platform.
In fact, all businesses can benefit from a headless website. We use headless as our standard.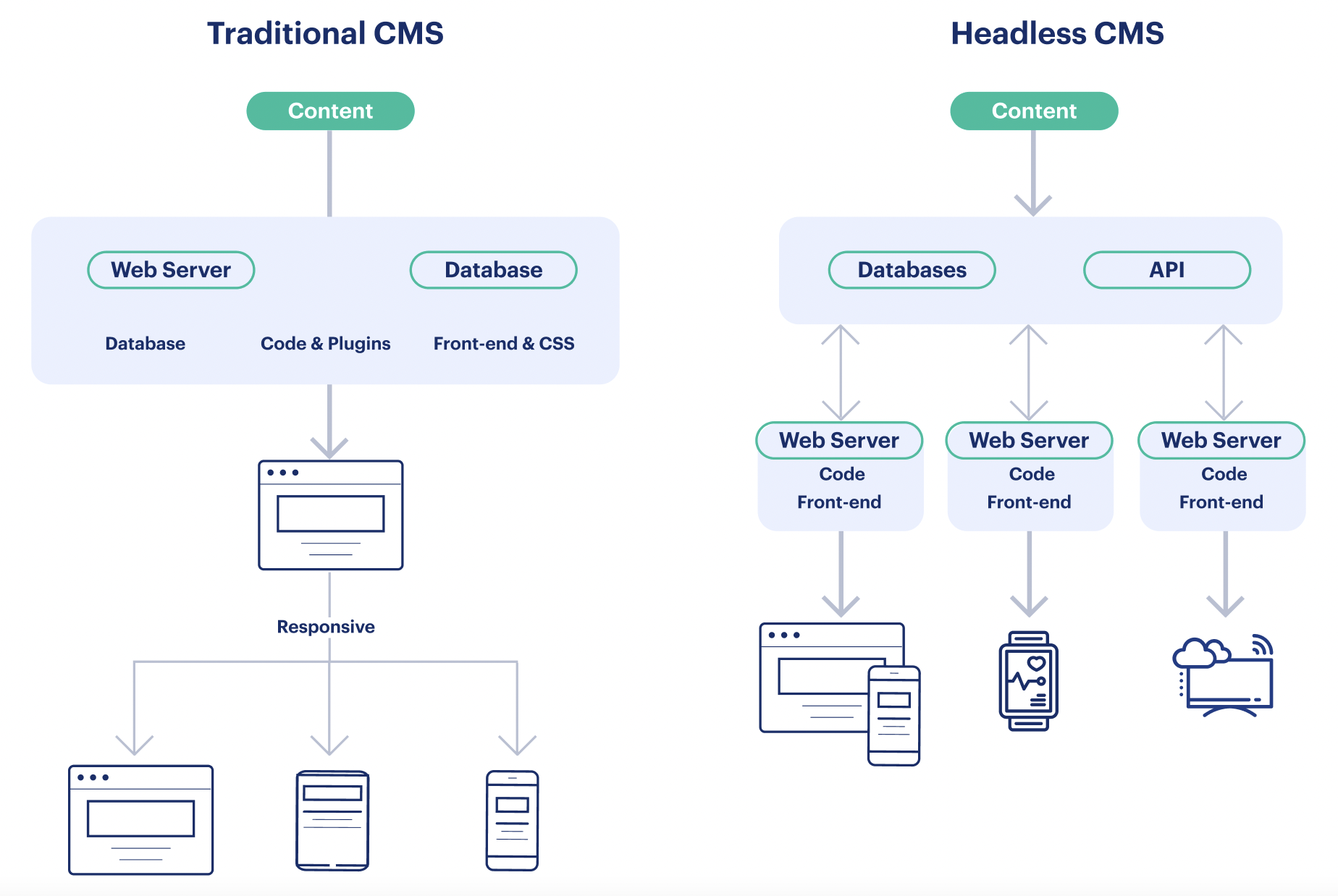 Not just about having a website
Websites have long been known as the digital shop window for brands. But increasingly, customers are interacting digitally with brands in other ways.
Yes, it's vitally important to have a website, but it's just as important to invest in other strong, consistent digital touchpoints: your eCommerce platforms, your social media, online advertising and email marketing.

Off-the-shelf solutions such as Squarespace and WordPress may be quick to set up but tend to rely heavily on plugin features. A couple of years down the line shortcuts with monolithic CMSes can leave your website with unsupported plugins, extra snippets of messy code slowing down your site, security issues, and an outdated look.
Think about when you've updated your website in the past. Was it easy? Or was it a case of scrapping the whole thing and starting from scratch? Headless technology allows you can leverage new tech in the blink of an eye without a costly rip'n'replace project.
It's far better to find a digital agency with principles that align with yours, and work together with them to ensure your ongoing needs are met.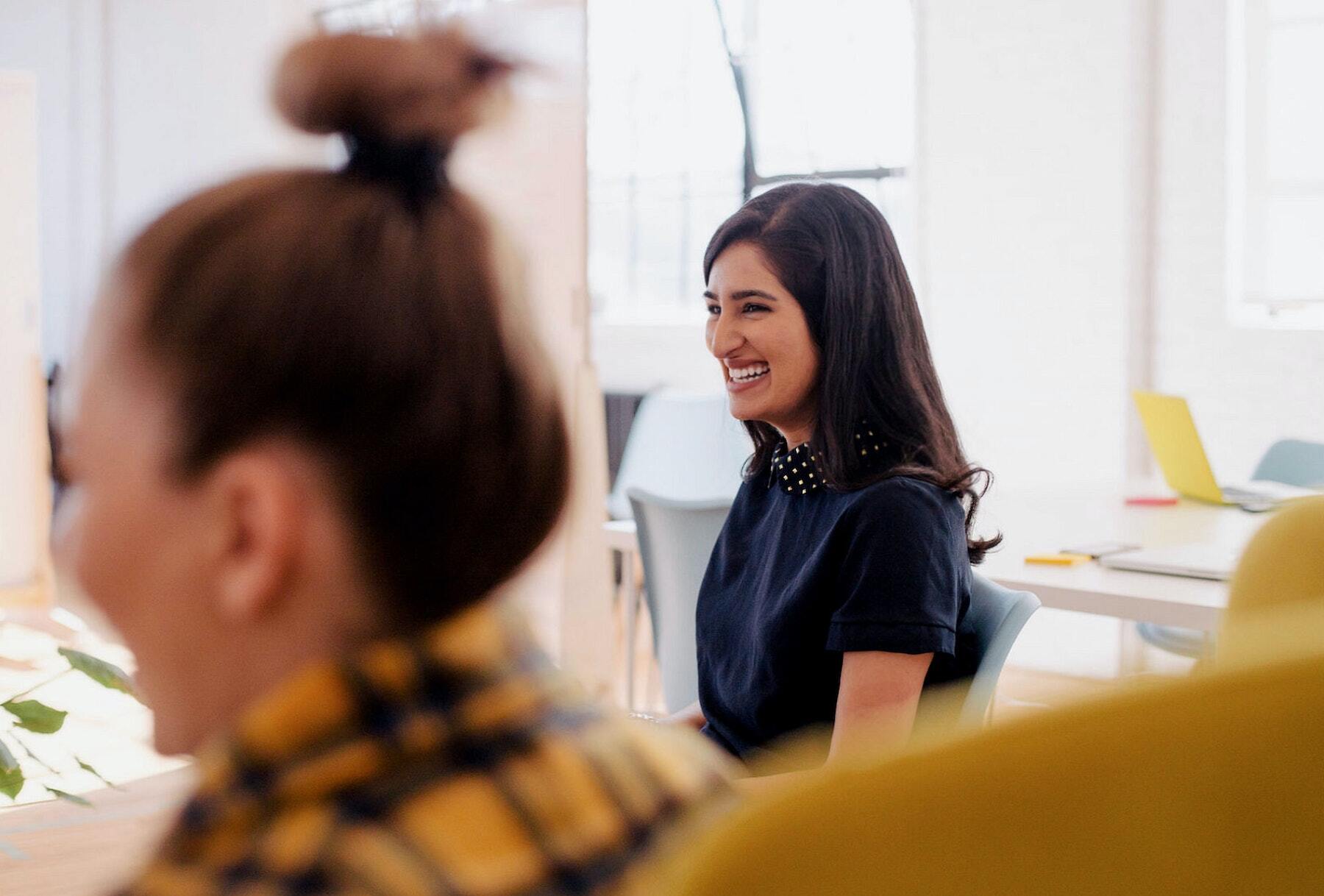 Here it is then: the
10

things you should expect from a good digital agency

Drawn from our years of experience. Your digital agency should:

1. Understand what makes a great website


This goes without saying, but we've said it anyway, as the list wouldn't be complete without it.

Eye-catching and user-centred design, full functionality, seamless integration of eCommerce platforms, a back end that does exactly what you need it to do… a good digital agency knows all this.

What's more, your outsourced digital team should be constantly refreshing their knowledge on what makes a good website, learning about the latest trends and new developments in the technology.



2. Take a strategic, holistic approach

You know you need a new website and other bits of digital. But do you know why? Is your goal to grow your business? Get more customers? Expand into a different location? Move into a different sector? Sell more products? Do you have a timeline in mind? What kind of service do you want to offer your customers? What marketing will you be doing? Do you have the staff, the resources, to manage it? If your business starts growing, do you have the operations and teams in place to manage the extra work?

The best way to grow is to strategise – to know what you want to achieve, set yourself goals, and measure your progress against them. Not only will you be able to see what good you're doing, but it's also easier to track your spending against new business you pick up, so you can see the effect on your bottom line.

The best digital agencies can help you build a strategy: one that's cohesive, and takes into account all the different digital touchpoints to consider.

3. Listen to your feedback and be responsive

Another fairly obvious one: a good digital agency will listen to you and respond to your feedback. You should be entirely comfortable with the digital solutions you're implementing into your business – and if you're not, it's your agency's job to address the areas of discomfort, and come up with something that works for you.

Your team should be trained and supported, with a named contact within your agency to go to with any questions or problems.


4. Understand your business goals and your changing priorities

Things change – in life and in business. Your agency should know what you're trying to achieve, be adaptable and be able to suggest new solutions.

Here's an example. Romney's Kendal Mint Cake has been selling its products online since 2016, but the back office was clunky and sales were relatively low. It needed to update its website, including more streamlined e-commerce and mobile optimisation.

Romney's digital agency had to understand the impressive heritage of the company, as well as its future goals, and translate these into the digital arena. This included coming up with a design that was both forward-looking and rooted in the business's impressive past, and implementing new tools, including Shopify, to simplify back-office processes.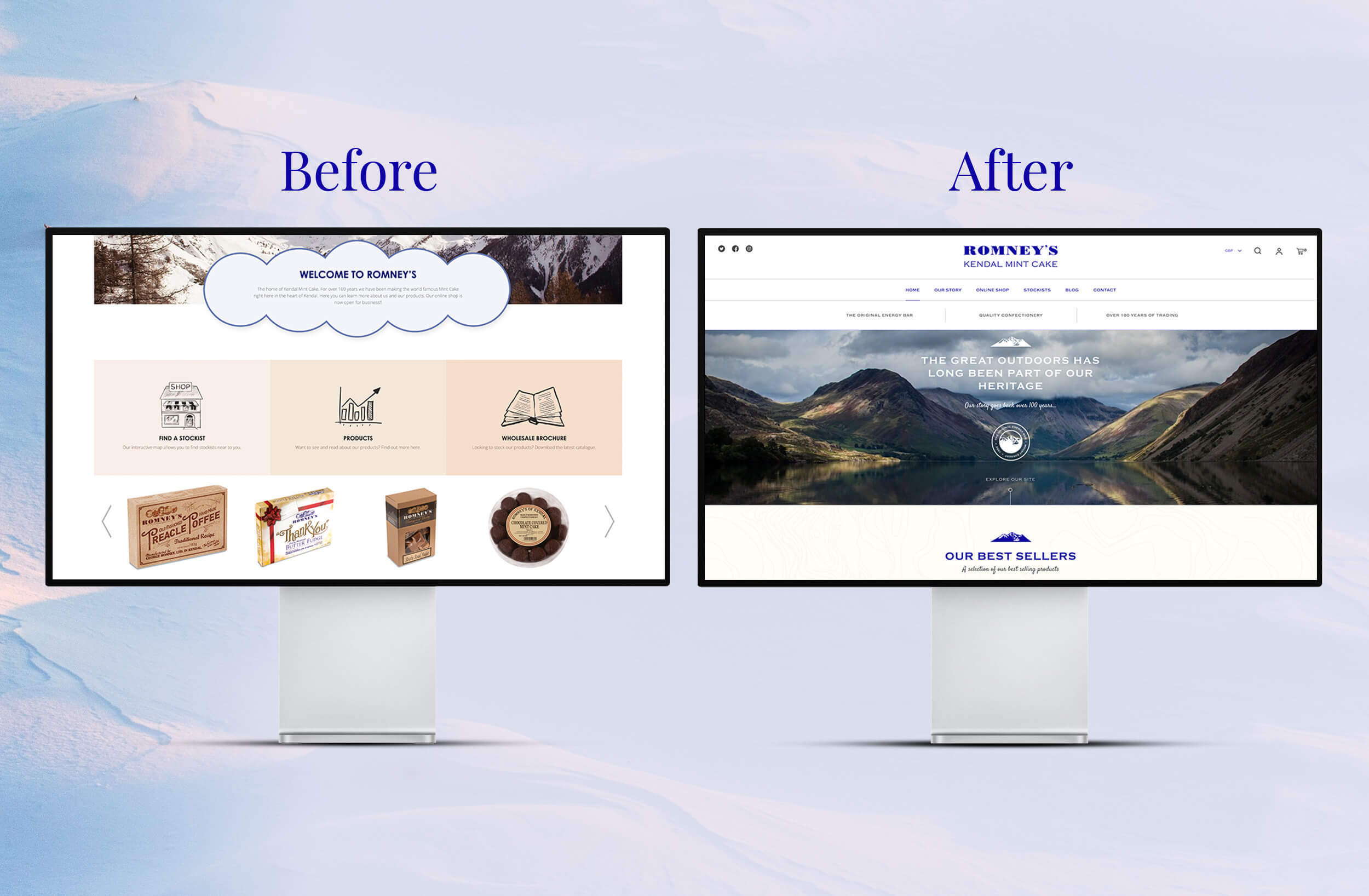 5. Suggest new, innovative ways to grow your business

You may have only a passing knowledge of headless CMSes, APIs and the rest. Your agency should be able to explain to you fully what's available – including solutions you might never have come across before.
There's a whole world of exciting opportunities in the digital realm – they should be able to tell you the benefits and potential downsides, so you can make an informed decision on what solutions to implement.
And, if you have questions about digital solutions, you should feel able to ask your agency about them.


6. Understand your customers and your offering to your customers

To understand your customers is to understand you and what you do.

Your digital agency needs to fully grasp who your customers are, and what you're offering them, including all your products and services, if they're to accurately target your website and your marketing, and nail the tone of voice you want to project.

When mega restaurant brand Harvester needed to simplify its online booking process, its digital agency Verse assessed the user experience (UX) from start to finish and redesigned the whole site, focusing on customer needs and key annual dates. The result is a beautiful website that follows a clear user journey, which clearly entices customers to book: within 12 months of starting the project with Verse, there's been an 84% increase in table bookings.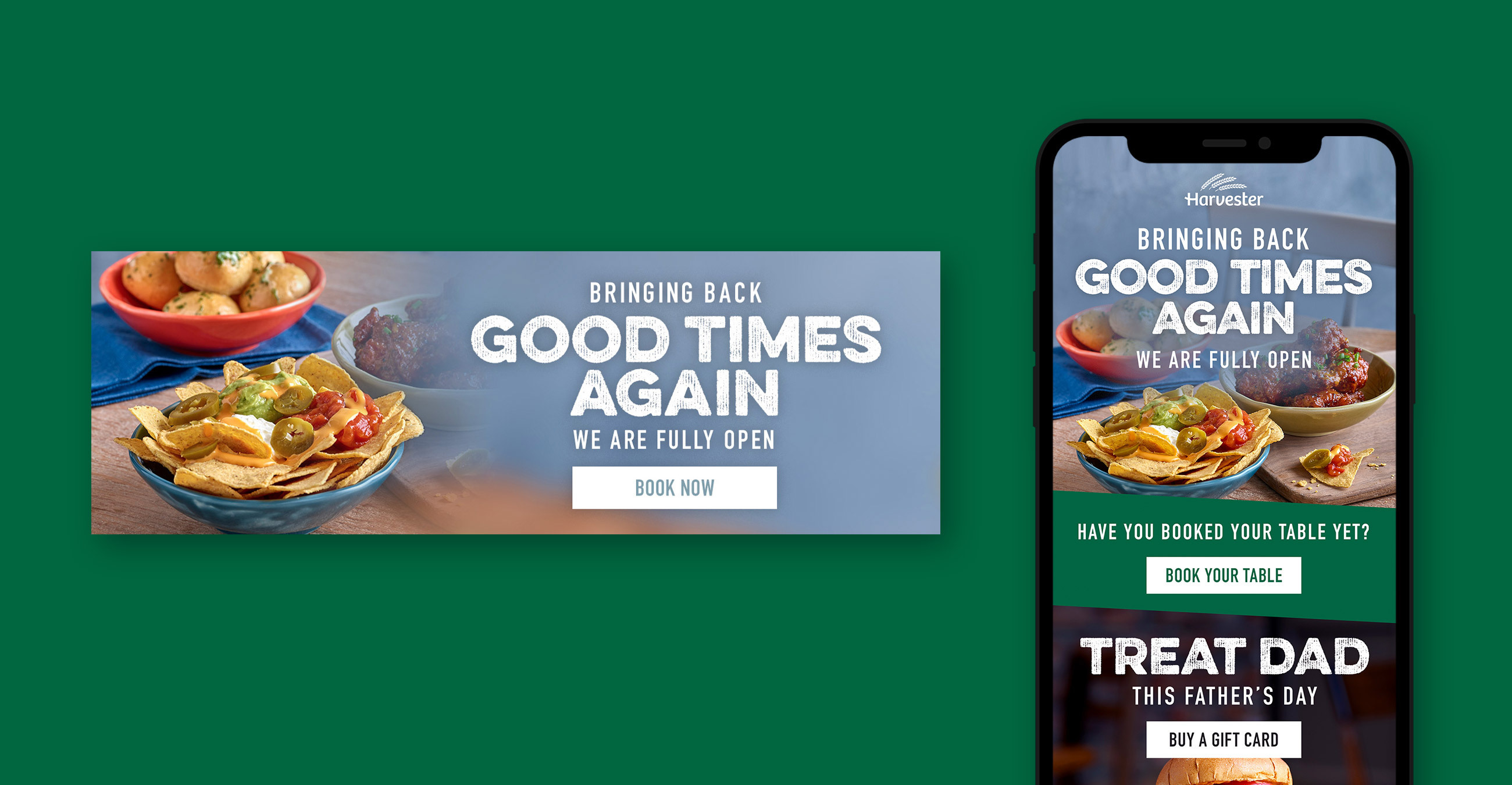 7. Be able to create marketing messages and apply them consistently

The importance of this came to the fore during the pandemic when covid messaging and regulations changed almost weekly.
During those confusing times, major restaurant operator Mitchells and Butlers tasked its digital agency with working with its marketing teams to create exciting, eye-catching ​"bringing back the good times" messaging, which was applied successfully across email campaigns, social media and on the company's 1,600 websites.
Part of the challenge with such a project is making sure not just the branding, but the tone of voice, is right across all channels. With research, and working with your marketing team, this is something a good digital agency can help you with.


8. Work well with your team

It's not just the marketing team your digital agency should be working with. From top-level management to warehouse personnel, your staff should receive full training and guidance from your digital agency, and be able to talk to a named contact if they have questions.


9. Solve business problems and work to your specifications

Your digital agency should be able to create something completely bespoke to your specification.
Off-the-shelf solutions can work for some companies, but a lot of businesses have something unique or complex to offer that requires a unique solution.
Take Lincat. This massive catering equipment supplier, with multiple product lines, required a large and robust B2B eCommerce platform, unlike anything its digital agency had ever created before.
That didn't put the Verse team off, though. They were able to assess the limitations of the old website, the needs of customers and the requirements of the team, and build a fully bespoke, hugely functional full eCommerce solution that accurately measures stock, simplifies orders, generates reports and complies with industry operational regulations.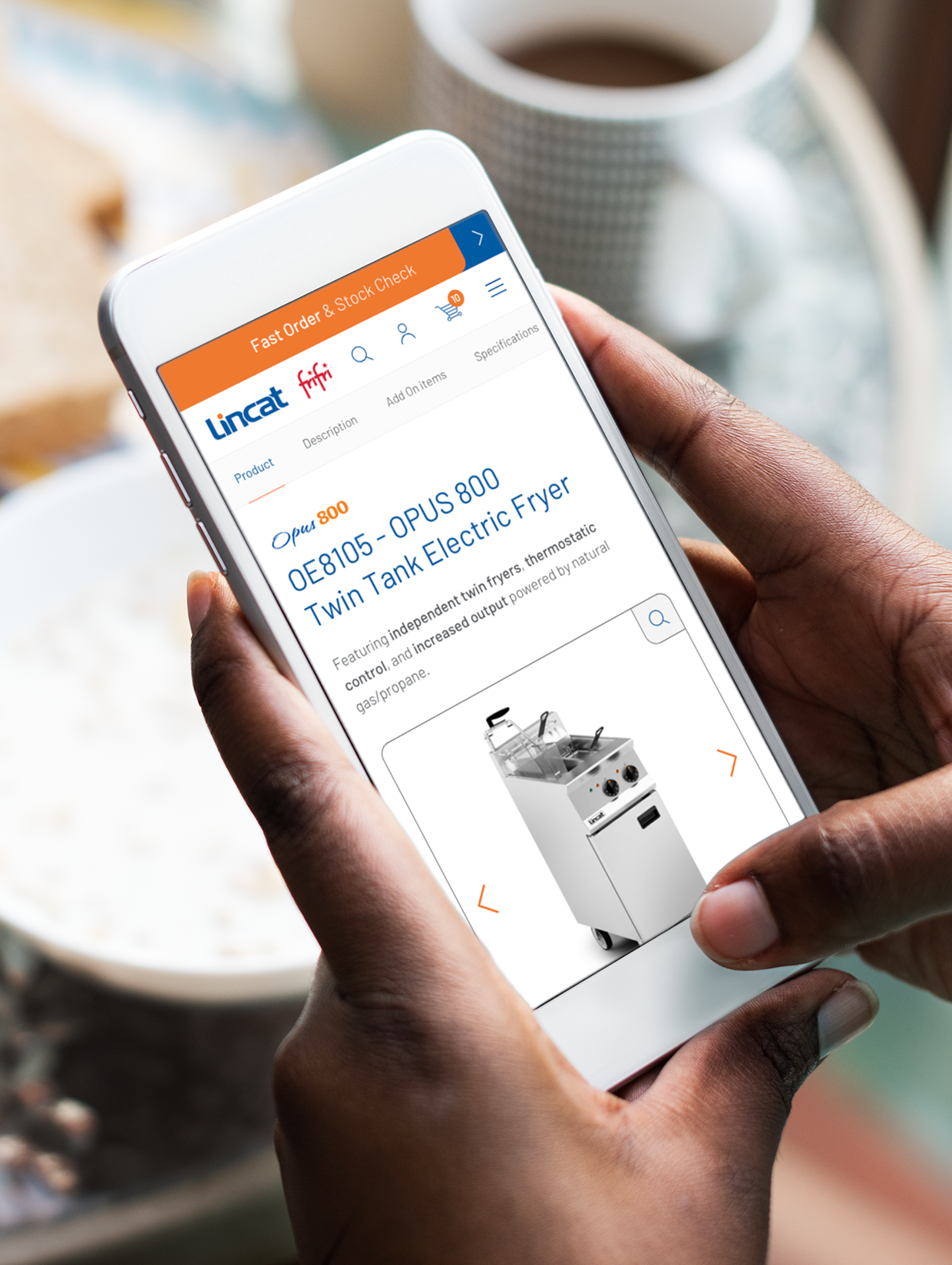 10. Fulfil the brief first time (or close enough)

The closer your agency gets to delivering the project according to the brief first time, the more time and work they'll save you. A good digital agency can do this by paying close attention to what you want, understanding your needs and your customers, and asking you lots of questions. There's a degree of intuition to it, too.
Resorts World Birmingham is a multifaceted destination with fairly complex requirements for its website. Verse worked closely with the team in an intensive discovery process to find out exactly how its website would look and work – and was happily rewarded with minimal amends to the proposed designs. Nailed it! 💪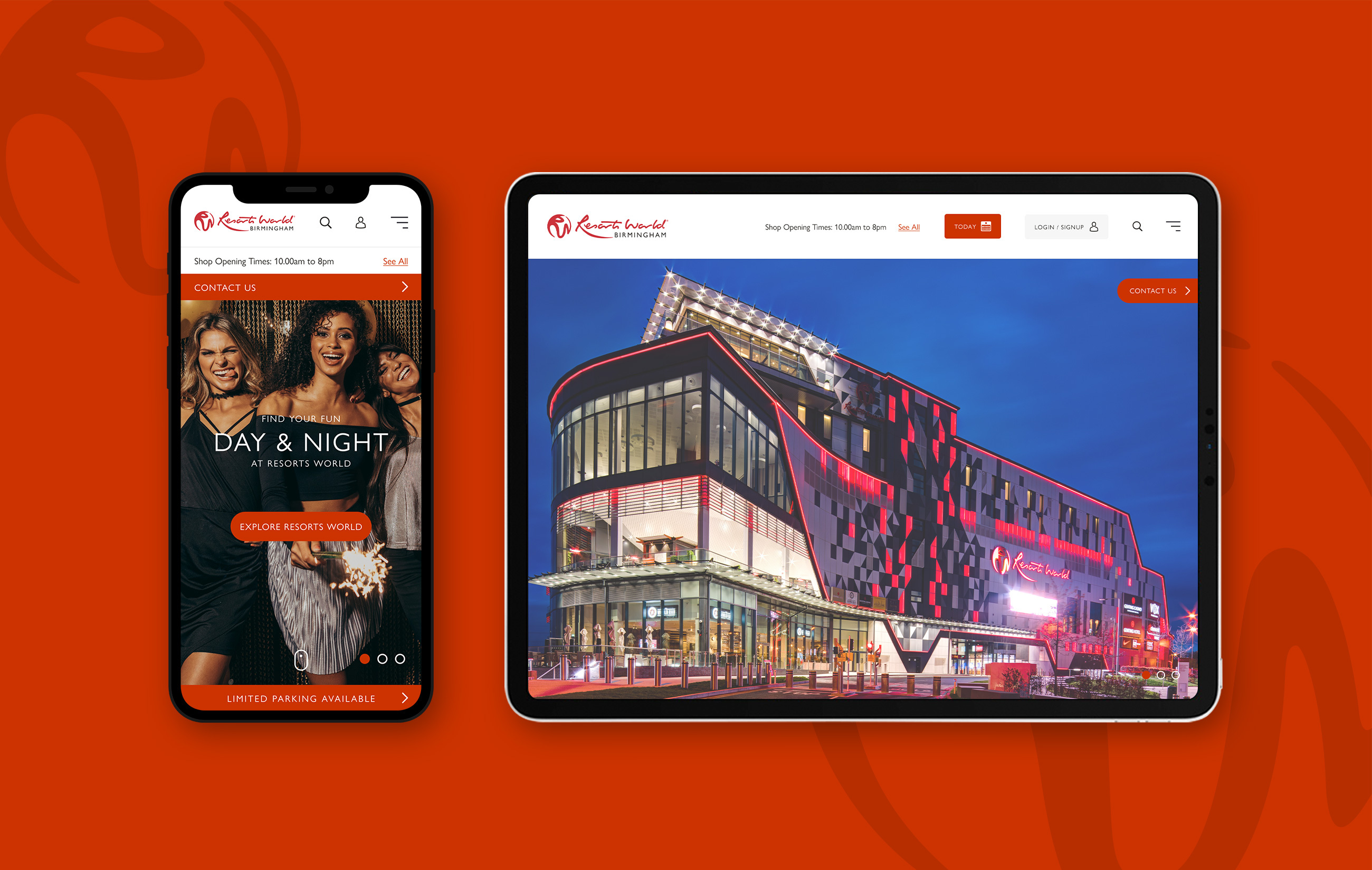 So here it is again – the full list for you to check off:
Understand what makes a great website

Take a strategic, holistic approach

Listen to your feedback and be responsive

Understand your business goals and your changing priorities

Suggest new, innovative ways to grow your business

Understand your customers and your offering to your customers

Be able to create marketing messages and apply them consistently

Work well with your team

Solve business problems and work to your specifications

Fulfil the brief first time.

Need help with digital?